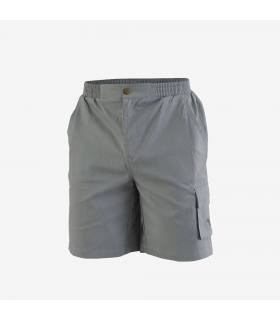 Availability:
16 In Stock
Tempo is a male bermuda shorts designed to offer a practical and cool look during the summer season in leisure time and outdoor sports activities, such as long walking. This garment is made of 100% pure cotton, a fresh, lightweight and hypoallergenic fabric, which gives it a soft and gentle touch on the skin, as well as great resistance to frequent use and machine washings.
The side pocket with tear-off closure is designed to contain the necessary accessories you always carry with you, such as keys or mobile phone, without any risk of accidentally losing them during your movements.
This bermuda shorts is an extremely versatile garment thanks to its sober and simple design, available in two plain color variations: gray and black. It has a not tight regular fit, so it can be worn at any age, creating the most varied combinations. In fact, it can be combined with a t-shirt or a singlet, for a more sporty look or with a polo shirt or a shirt, for a casual outfit suitable even for summer evenings.
-20% OFF OUTLET price for CHILDREN SIZES